Well, I think this was one of the hardest cards I ever had to make. I don't think
had
to mak
e are the words I was looking for, but I did have some huge challenges with this one. Our local group of stamping friends decided, OK, Val came up with the idea, to do a Mingle between us that had the following guidelines:
The challenge is to make a card with ENTIRELY new supplies that you already own but have never used before...
~new paper
~new stamps
~new embellishments
~new ribbon
~new bling
... whatever you use, must be in your stash already but you must not have ever used it before :)
Wow, now there's a challenge!!! I'd come up with an idea and think OK, this is the stamp that I'm going to use, but then I couldn't find anything else that would go with it that I hadn't used already that would follow the theme. Finally, I saw this stamp that I got not too long ago and remembered a paper pack that my Mum gave me from one of her scrapbooking excursions, then I spied this ribbon that I had and bang, an idea was born! lol :)
Here's a close up of the flowers, I even used ink that I've had for ages, but have never used before! I guess I really got into the challenge! lol :) I curled the edges up a bit to give them more dimension, but I know they won't stay curled after this card goes through the mail...
My card is going to my friend, Louise. Louise, I have to apologize for the brightness of this card! I honestly had full intentions of going with something with more 'earthtones' but alas a bright card it is! Hope you like it anyway! :)
Thanks for stoppin' by! :)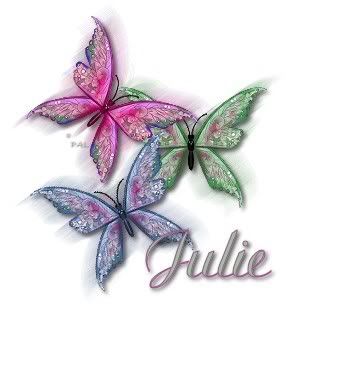 Supplies:

Stamps: Hibiscus - B-54 (Queen Kat Designs)

Ink: Turquoise - Little Inker Pigment Ink (Hero Arts)

Cardstock: Flat White (Staples)

Patterned Paper: Tiki (Creative Memories)

Tools: Custom Made Designer Label, 1 1/4" & 1 1/2" Circle Punches (Creative Memories), 1/8" Dimensional Squares (EK Success), Corner Rounder (SU), Black Gel Pen (Signo) - for hand writing the 'Aloha'

Embellishments: Hawaiian Floral Satin Ribbon (Michaels), Green Brads (Making Memories)...I sure that I've used these colour brads before, but I couldn't help it, nothing else matched that I had in my stock! lol :)