Will the baby be a boy or a girl?
My neighbour is expecting baby #2 any day now and she's not telling anyone ahead of time if it's going to be a boy or a girl, so I figured I better be prepared with a card either way. Can't wait to meet him or her! :)
I CASE'd this card nearly in part from a card that I saw in a Take Ten Magazine. I borrowed the magazine from a friend and I can't remember who made the card, but I'll find out and add her name to give her credit for this cute design. :) ...Can you help me out Kim? I borrowed your Take Ten magazine, any chance you could find a card that looks like this and post a comment as to who designed it? Thanks, so much!
Seems like lots of baby cards to make lately, quite a little baby boom 'round here. But, that's good! I love visiting new babies, then love even more that I can give them back and go get a full night of sleep! lol :) I can hardly wait to be a grandma! I know, I know, lots of time before that's gonna happen, but I still look forward to it...perhaps 20 years down the road. :)
Thanks to Val for letting me borrow her scalloped Square and Scalloped Rectangle Nesties. My birthday is coming up in June and I think that's what I'll ask for. Lots of new Nestabilities! The ovals, squares and rectangles are top on my wish list. Hint, hint, Jim! lol :)
We went on a 11 1/2 hour road trip yesterday down the South Shore of Nova Scotia as far as Yarmouth and Digby. Unfortunately, no crafty stores to visit, but we had a great day anyway. The weather was beautiful and sunny and the kids were in good spirits. It was a nice family day.
Now, back to reality, we have some work to do around the house today to catch up after a day away. I hope to get in some craft time later tonight.
Thanks for stoppin' by! :)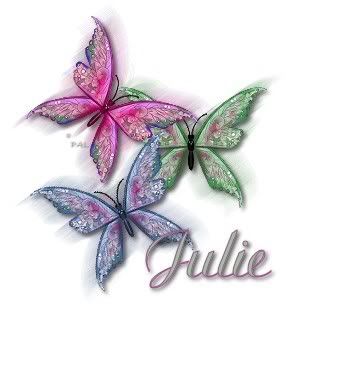 Supplies:
Stamps: Giraffe- Baby Powder Collection - Snag 'em Stamps (Imaginisce), Welcome Little One (Studio G)
Cardstock: Goldenrod Linen (CRS), Soft Mauve (Bazzill), Key Lime Flat (CRS), Blue Bayou (SU), White Flat (CRS)
Ink: Perfect Plum (SU), Creamy Caramel (SU), Barely Banana (SU)
,
Blue Bayou (SU)
Tools: Cuttlebug, Scalloped Square and Scalloped Rectangle Nestabilities (Spellbinders), Aqua Painter (SU), Paper Piercer and Piercing Mat