For tonight's card, I decided to take this tri-fold card from
Galison
and add to it to make it my own with some extra embellishing. The original card was just a blank canvas to work with. I added the scalloped border to the bottom edge of the front of the card as well as all the other embellishments.
Here's a view of the card with the bow untied and the top of the card slightly opened up to show you the center fold. This patterned layer folds down to open the card up to 5" wide x 9 1/2" long. The back of the card has this patterned paper on it, as well. The inside of the card is plain cream c/s.
I recently got these fairy stamps at Michaels as part of the Kolette Hall line from Studio G. I thought they were so pretty, I got a bunch of them. I can't wait to play with all of them. How can a person go wrong with both faeries and butterflies together? They're such beautiful butterflies, I couldn't resist!
Aerianna - 5 months
I hope everyone is having a relaxing Easter Weekend with their families and enjoying time with their families. I had a relaxing day off today. I did a bit of Spring cleaning and then my friends Lisa and Sean stopped over with their 5 month old baby girl, Aerianna. She's so precious, Jim and I both got in some baby cuddling. Ah, the sweet smell of a new little baby and those wonderful little sounds that they make, how I miss that! Good thing I have lots of friends that have little ones and we can get our fill, then send them home to their parents who get to deal with the dirty diapers, teething and whatnot! lol :)
Thanks for stoppin' by! :)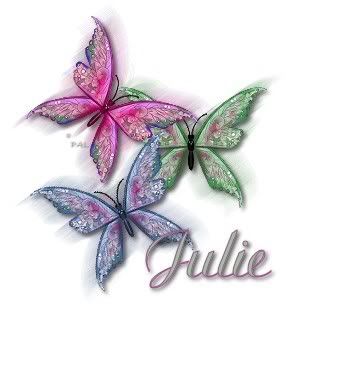 Supplies:

Stamps: Butterflies, Faeries & Enchanted - Kolette Hall (Studio G)

Cardstock: Ivory (Staples), Chocolate Brown (CRS), Vellum Cardstock (SU)

Patterned Paper: Recycled paper from a
Galison Fine Art & Children's Educational Games
Card and Patterned Envelop
Ink: Jet Black (StazOn)

Tools: 1/8" Dimensional Squares (EK Success), Scissors, 1 1/4" & 1 1/2" Circle Punches (Creative Memories)
, Scallop Edge Punch (SU), White Gel Pen - Signo (SU)

Embellishments: White Sheer Ribbon (Michaels)
,
Antique Brass Swirl Clip - Hodge Podge Hardware (SU)