We had a great time at the Tattoo and the girls really enjoyed the show. My youngest leaned in to me about 20 minutes into the show and said "Mama, thank you so much for bringing us here! I love it!" That made my evening. I love it when they tell you how much they like something and know that they appreciate you taking them.
Ok, onto my card, this was the one that we started on Tuesday night at our crafty get together. Yvonne brought her Spellbinders Dahlia dies and we used them all at once taped together to give this effect. Pretty cool, eh? I used both sides of a double-sided piece of patterned paper so that I could alternate the layers of the flower. I think I like this flower so much that I may need to either buy this Dahlia set or borrow it from Yvonne on our next crafty night! It's so pretty!
Here's an angle to show you the dimension of this card - holy cow, this card must be an inch thick! Somehow I don't think this one will be going in the mail! lol :)
Well, I think it's time to call it a day. I have to get up early to go get my hair done...thank goodness, I've already had to reschedule two appointments and my hair is in severe need of being cut and re-coloured!
Thanks for stoppin' by! :)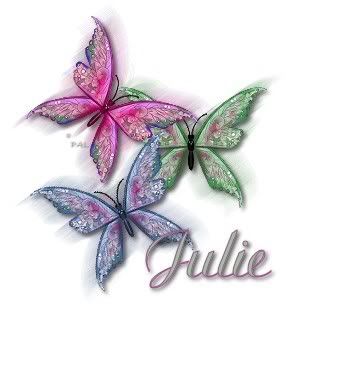 Supplies:
Cardstock: Purely Pomegranate (SU), Jet Black Linen (CRS)
Patterned Paper:
KO Addison Blue Garden Swirls (K&Company), KO Addison Teal Swirls
(K&Company)
Tools: Cuttlebug, Dahlia Nestabilities (Spellbinders), Black 1/16" Dimensional Dots (
MultiCraft Imports
), Thumbtack (to pierce holes for brads), Scissors, Embossing buddy (
SU
) - This was to remove any access stickiness of the pop dots so that if the flower were to get pushed down in the centre, it would all stick to the base layer. That's for that tip again, Yvonne! :)
Embellishments: Jumbo Onyx and Silver Brads and Onyx Self-Adhesive Gems (Dollarama)