Ring around the rosie, pocket full of posies, ashes! ashes! we all fall down! :)
I had a lot of fun making this card today. I've been going through a bit of a blah time lately. Lots of headaches...perhaps just tension headaches from the stress of my ceran top breaking on my stove and having to battle with the people we bough tit from over warranty. We've been without a stove top for 2 weeks now and it really sucks! Anyway, this card provided some good therapy time. It's funny, I used to hate using scissors to cut out flowers that I stamped, but now I love it. I find it really relaxing along with the watercolouring.
This was supposed to be a birthday card for a little girl turning 2, but somehow it took a turn and now, to me, it looks very far from a 2 year old birthday card! lol :) I was trying to get a head start on this card, as I don't need it until next month, but you know how time escapes us sometimes. Thought I'd get it done and I'd be all set. But, I look at it now and it seems rather a bit much to me. I don't know, I just think it should have been more 'cutesie,' don't ya think?
I thought I'd try playing with my score blade today, as well, to make the lattice design on the goldenrod (yellow) layer. I really like how it turned out, but you can't see it very well in the picture. I guess if you click on the picture, it will blow it up for you and you could see it more clearly. I don't think I'll ever get sick of Purely Pomegranate by SU. I'm thinkin' I should have bought waaaaay more of this colour before it was retired as an 'In Color.' Oh well, I'm sure I'll fall in love with lots of other colours, so no worries! lol :)
Well,that's all for now. I should be back tomorrow with something else to share with you all.
Thanks for stoppin' by! :)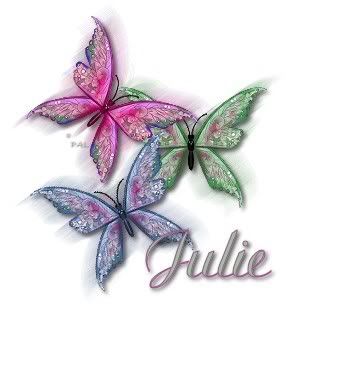 Supplies:
Stamps: Delight in Life (SU), Natural Beauty (SU), Ring Around the Rosie -See d's (Inque Boutique)
Cardstock: Purely Pomegranate (SU), Navy (Bazzill), Goldenrod Linen and White Flat (CRS)
Ink: Purely Pomegranate (SU), Not Quite Navy (SU)
WaterColour Wonder Crayons: Certainly Celery (SU), Always Artichoke (SU)
Tools: Score Blade (Fiskars), Scissors, White Gel Pen (Signo - SU), Cuttlebug, Classic Circle Nestabilities (Spellbinders), Circle Custom Cutting Template (Creative Memories), 1/8" Dimensional Squares (EK Success), Aqua Painter (SU)
Embellishments: Lime Green with White Polka Dot Satin Ribbon, Clear Bling