I just got home from work and we're having a first real snowstorm. It flurried yesterday for the first time this season, but tonight it really started snowing and accumulating on the ground, the salt trucks and plows are already out. Very wet snow, so it's made quick a slushy mess as the temp is hovering right at the freezing mark. I'm sure the kids will all be excited to see snow in the morning, I'm however not so happy that it's time to get them into snow pants again already...was hoping we had a bit more time before that! Oh well, it's inevitable, eh? lol :)
I made this card before I went to work today, just didn't have time to post it earlier. My friend,
Catherine
and I have been discussing the new scalloped border punch from SU and how it works. We both thought it was a full length punch that would punch the long side of an A2 style card in one punch. We didn't realize that it's only a 2 inch section that punches and then you repeat the pattern for as long as you want it. It took a bit of fooling around, but I think I've got it figured out now and I think it'll be fun to play with.
So, this is the design that I came up with, while playing with my new toy. This shows the card opened up a bit, so you can see how it opens more clearly.
This is just a close up to show you the dimension of the butterfly and the free-hand work that I did. :) I made a template since I don't own a 'designer label punch' from SU and I cut it out with scissors, including the oval in the centre. I free-handed that, too! Yes, I realize it would have been much easier to just punch them out, but since I don't have either punch, I make do with what I have. You couldn't tell, though, could you? lol :)
Well, it's time to call it a day. Gotta go get some rest in case school's not cancelled in the morning. That's just wishing thinking on my part, that I might actually be able to sleep in a bit! lol :)
Thanks for stoppin' by! :)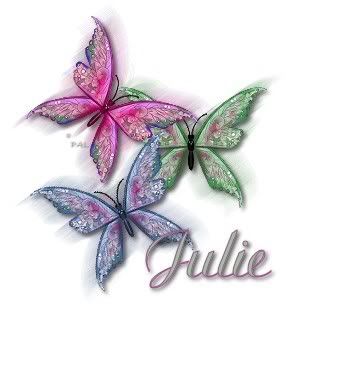 Supplies:
Stamps: Sentiments 1 (Impression Obsession), Butterfly Garden (Storage Units, Ink & More)
Cardstock: Pink Pirouette (SU), Black Flat (CRS), Vellum Cardstock (SU)
Patterned Paper: Family Roots (My Minds Eye), Classic K
McKenna (K & Company)
Ink: Black Onyx (VersaFine)
Watercolor Wonder Crayons: Regal Rose, Bravo Burgundy, Always Artichoke
Tools: Scalloped Border Punch (SU), Scissors, AquaPainter (SU), White and Black Gel Pens (Signo - SU), 1 1/4" Circle Punch (Creative Memories)
Embellishme
nts: Black and White Polka Dot Grosgrain Ribbon (Michaels)