Each year my daughter's school has what they call a 'Santa's Gift Mart' where all the parents send in things from home, whether it's toys the children no longer play with or household items,
knickknacks
, tools, whatever. It needs to be in good shape, but is supposed to be something that you already had and no longer use. Meaning, we're not supposed to go and buy anything specifically for this purpose. For each item that the children send in, they receive a ticket to buy another item in return for a family member. Along with that ticket, when they go to make their purchases, it costs the child anywhere between $ .25 - $1.00 per item to buy from the gift mart. This teaches the children a bit about money and also fundraises a bit of money for the school. So, each child could quite possibly buy gifts for their whole family for under $5.00. Pretty good, eh? Anyway, they have so much fun deciding what to buy and really put a lot of thought into each gift. That's the best gift to me on Xmas Day, seeing what they've chosen for me, as all the gifts come home wrapped, so the families have no idea what they are until Xmas. I coulsn't care less what it is, it's the surprise that's priceless! :)
I sent in a bunch of old toys and some things from around the house. But, I also had these hair product samples that I wasn't using, so I thought I'd donate them. They looked kinda plain as they were, so I thought I'd pretty them up a bit. After all, it wouldn't be me, if I didn't!
lol
:)
This is an angle view to show you the little
criss
-cross box that I made for the hair product samples. The two bottles fit in the box perfectly. :) I used the
template
from Nichole Heady.
This was
criss
-cross box #2 that I made to hold two other hair product samples, using some pretty blue paper this time.
Well, I need to call it a day. I've gotta work all day tomorrow, then off to Jim's Navy Xmas Party in the evening. Perhaps we'll flip a coin to see who gets to drink and who has to drive!
lol
:)
Thanks for
stoppin
' by! :)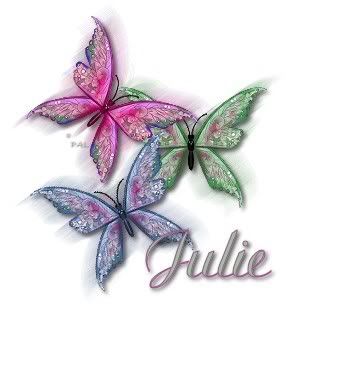 Supplies:



Cardstock

: Jet Black Linen (

CRS

), Wild

Wasabi

(

SU

), Blue Bayou (

SU

)

Ink: Wild

Wasabi

(

SU

), Blue Bayou (

SU

)

Patterned Paper: a la

Carte

- Pesto (American Crafts), Foyer Hearts (

ChatterBox

Inc.)

Tools: 1" & 1 1/4' Circle Punches (Creative Memories), Glue Dots (

SU

), double-sided adhesive