Our group of crafty friends met last night for dinner to celebrate several birthdays within our group and just to enjoy a night out and have some great Thai food and have tonnes of laughs. Well, we certainly had tonnes of laughs and I think my ribs actually still hurt today from it! They say that laughter is the best medicine and I really do believe that! I had such a great night! :)
For this time around, although we weren't having a crafty night, we still held a swap for the night and we also all brought our movie mingle cards to show everyone. The theme was 'Dimensional.' This could be a card or a 3-D project. Everyone did really neat projects but we all loved Yvonne's project and have decided to all make one together at our next crafty night at the end of the month. I can't wait!
This shows you the dimension of my card with the window and the dimensional butterfly.
This is a close up view of the card I'm going to show you in my next post, but the vellum butterfly is the same, so I'll just show you this one. I used vellum for both layers - I stamped the butterfly out twice with VersaMark and then used white opaque for the bottom butterfly layer and Rose Quartz embossing powder for the top butterfly.
Thanks for stoppin' by! :)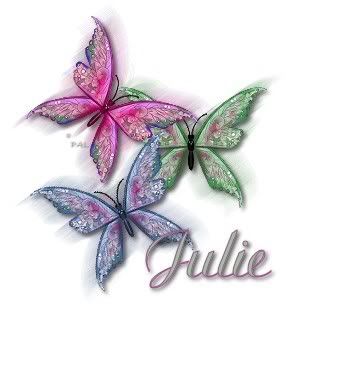 Supplies:
Stamps: Butterfly by Brenda Walton - Madeline (K&Company), Greetings Galore (Impression Obsession)
Cardstock: Purely Pomegranate (SU), Flat White (Staples)
Patterned Paper: Soft Vines & Light Stripe - Rose Colored Glasses Collection (gcd studios)
Ink: Purely Pomegranate (SU)
Tools:
White Opaque Embossing Powder (Stampendous), Rose Quartz Embossing Powder (The Artful Stamper), Embossing Buddy (SU), Embossing Tray, 1/8" Dimensional Squares (EK Success)
Embellishments: Plum Brads (EK Success)