Apparently, I'm making up for lost time with all my posts today, but this is my last post for today, I promise! lol :) This card is basically the same as my last card that I posted, except that I decided to add the extra cherry blossom branches to the background for some added dimension. This card was for my friend,
Yvonne
, who's birthday is next week, but I gave her the card last night at our get together so it's safe to post.
This is my little vellum butterfly that I stamped, embossed and cut out times two. I love this little butterfly stamp - I think I might be in love! lol :)
Here's an angle to show you the dimension of the card.
Ok, I'm gonna call it a day. I'm volunteering with my girls school tomorrow to take the Grades Primary and Grade One class to go swimming. They're all getting so excited...should be fun walking 50 kids over to the pool...humm, perhaps I'm insane! lol :) Seriously, it'll be great.
Thanks for stoppin' by! :)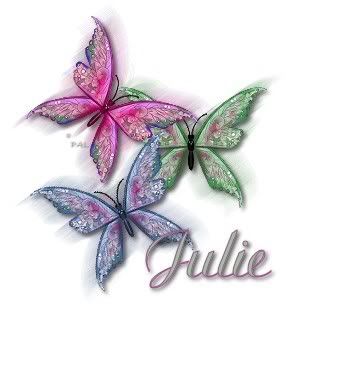 Supplies:

Stamps: Butterfly by Brenda Walton - Madeline (K&Company), Happy Birthday - All Kinds of Happy (Imaginisce), Cherry Blossom Branch (Impression Obsession)

Cardstock: Purely Pomegranate (SU), Flat White (Staples)

Patterned Paper: Soft Vines & Light Stripe - Rose Colored Glasses Collection (gcd studios)
Ink: Purely Pomegranate (SU)

Tools:
White Opaque Embossing Powder (Stampendous), Rose Quartz Embossing Powder (The Artful Stamper), Embossing Buddy (SU), Embossing Tray, 1/8" Dimensional Squares (EK Success, 3/16" Mini Glue Dots (SU)

Embellishments: Plum Brads (EK Success)