I thought I'd take some time out for myself tonight before I hit the hay early. Both my daughters are sick and between them I got about a 1/2 hour of sleep last night. I think right now I'm just running on caffeine...no, actually, I don't think, I know I am! lol :) They've both been running really high fevers, my oldest has an intestinal flu...yup, you guessed it, not pretty at all, nor is the laundry that's been associated with it! My youngest only has a bad cold, but has had severe headaches along with the fever. I think her little body is trying to fight off the flu. I really hope she doesn't get it, too. I'm praying that tomorrow will be a better day. They were both asleep by 6:30 PM tonight, so hopefully since neither of them slept last night, they'll get a good night of sleep tonight. So far, so good...
Ok, onto my card. I don't think I've done this much stamping on a card in a long time! I really like the way this card turned out, although it may look a little dark in the scan that I took of the card. Jim left for Sea yesterday and took our good camera. My old camera isn't holding a charge anymore, so I had to use my scanner to get a pic. I guess it'll do for now, but it's causing me some issues. Oh well, not a big deal.
OK, gotta go check on the kiddies and turn in early myself.
Thanks for stoppin' by! :)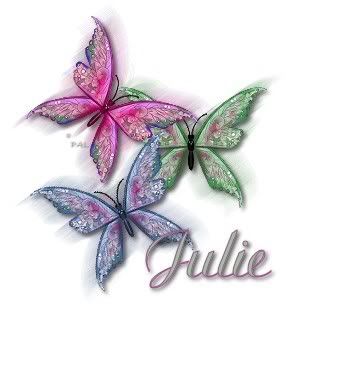 Supplies:

Stamps: Stem Silhouettes (SU), Enjoy (Daisy Bucket), Butterfly (Daisy Bucket), Solid Florals (Impression Obsession), Tree - Fairest of Them All (Imaginisce)

Cardstock: Jet Black Linen (CRS), Red Riding Hood (SU), Cream (Staples)

Ink: Onyx Black (VersaFine)

Patterned Paper: Classic K McKenna (K & Company)

Tools: Ticket Punch (SU), Scallop Border (SU), Paper Piercer, Piercing Mat, Piercing Guide, 1 1/4" & 1 1/2" Circle Punches (Creative Memories), Classic Circle Nestability (Spellbinders), Cuttlebug, Sponge (SU), Mini Glue Dots (SU)

Embellishments: Black and White Polka Dot Sheer Ribbon (Michaels)