So, I've been going through some serious crafty withdrawal! Being confined to upstairs...away from my crafty area for the whole week! I couldn't wait to get back downstairs to play again and tonight was the night to take the plunge. I had to make it a short session as my back is still bothering me a lot, but thankfully the pain meds are helping a lot. :)
I decided to use one of Julee's Mojo Monday sketch challenges, this is the current one from week 74. I stamped the background layers with alternating clear stamps and the blue strips that are at the top and bottom of the main image are actually patterned paper although it's hard to see in the picture. If you click on the picture, you can probably see it more clearly.
Well, it's time to call it a night, for now. I'm gonna try to get in a little more crafty time again tomorrow. Stay tuned...
Thanks for stoppin' by! :)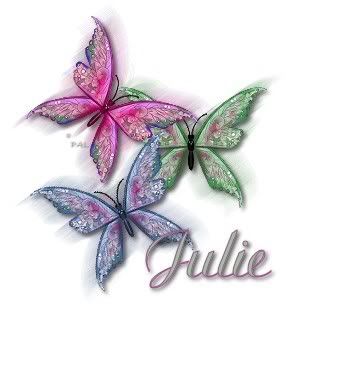 Supplies:

Stamps: Amy Butler - Lotus Clear Stamps (K&Company)
Cardstock: Soft Sky (SU), Jet Black Linen (CRS), Flat White (CRS)

Ink: Onyx Black (VersaFine)

Patterned Paper: Blue Raspberry Collage - Fresh Print (Déjà Views)

Tools: 1/8" Dimensional Squares (EK Success), 1 1/4" & 1 1/2" Circle Punches (Creative Memories)

Embellishments: 1/4" Black Grosgrain Ribbon (Michaels)