OK, so I love, love, love the colour of this blue cardstock! I bought a bunch of cardstock from my friend,
Kim
, a while ago and I think I got this from her. If I did, I need to find out if she has any more or find out where she got this cs. This was my last sheet and it's such a gorgeous shade of blue that I NEED to have more! lol :) It's a shade darker than Blue Bayou, by SU. Kim, if you're reading this, do ya have any more? Inquiring minds need to know! :)
Yes, unfortunately, we're all still sick here at my house. Jim certainly picked a great time to go to sea. The girls are still home from school again today and I imagine I'll be keeping them home again tomorrow, as well. A truly nasty bug has taken over my house and I don't like it one little bit! :( We're all still running fevers up to 40 C/104 F. Not fun at all!
My daughter, Alexandria has been wanting to have crafty time, so with helping her, I don't seem to have it in me to design my own card sketch, so I've been cheating for the past couple of cards and I CASE'd them. This one is one that I CASE'd from the very talented,
Carolyn King
or Cammie as she's known to most of the blogging world. It's such a simple card sketch, but I love it. I like how she corner rounded the base of the whole card and added the eyelet to the edge of the top layer to add a tied ribbon through. A simple touch, by very effective.
I'm still having to use my scanner as my lithium battery in my old camera won't hold a charge anymore. My scanner provides a clear picture of the card, but it doesn't show any of the dimension of the card. I popped up all the scalloped circles and then also popped up the butterflies and folded their wings up so they look like they've just landed on the card. Wish you could see that. The scanner also makes the colours darker than they really are. The blue isn't this dark in real life. But, when I try to adjust the colours, I just make it worse. Ah well, I'll have my camera back soon enough.
Thanks for stoppin' by! :)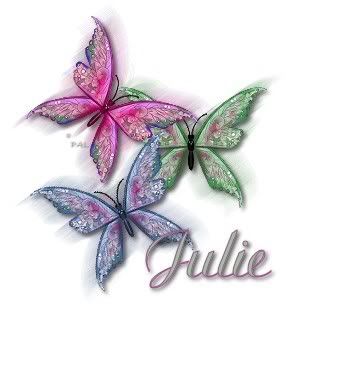 Supplies:

Stamps: Patterned Bugs (Inkadinkado), Just a Note (Studio G)

Cardstock: Blue - not sure who makes this...gotta find out (It's a shade darker than Blue Bayou - SU), White (Staples), Jet Black Linen (CRS)

Ink: Blue Bayou (SU, Onyx Black (VersaFine)

Tools: Cuttlebug, Stylized Flowers Embossing Folder, Paper Piercer, Piercing Mat, Piercing Guide, Classic & Scallop Circle Nestabilities (Spellbinders), Scallop Border Punch (SU), Scissors, 1/8" Dimensional Squares (EK Success)

Embellishments: Jumbo Antique Nickel Brads and Eyelet (Dollarama), Black and White Polka Dot Sheer Ribbon (Michaels)