This is a birthday card that I made for the daughter of a very good friend of mine. Her daughter is turning 2 years old on Tuesday and I thought she'd like the bright colours in this card...and who doesn't like ladybugs? By the way, the eyes don't look nearly that psychotic in person, it's just the flash against the clear gems that's making them them look all crazy! lol :)
Here's a close up of the A Muse sentiment, Happy Birthday Little Lady. I love it!
This is a close up of the ribbon fed through the slots. I CASE'd this card sketch from
Amy Rysavy
, from a card she did for PTI. I loved her card, but mostly the way that she fed the ribbon through her card and I knew I wanted to try it. I think it gives a neat look to the card.
Well, I think I've had all I can take today of being up and moving around. Gotta retire back to my comfy bed to relax for the evening with my pain meds...or as a friend of mine put it, "better living through chemistry!" You're funny, Deborah! I seriously laughed out loud when I read that! :)
Jim's been away this afternoon on a Search and Rescue exercise flight, but he should be home soon...let's hope he brings supper with him! :) I'll try to have something else to show you tomorrow.
Thanks for stoppin' by! :)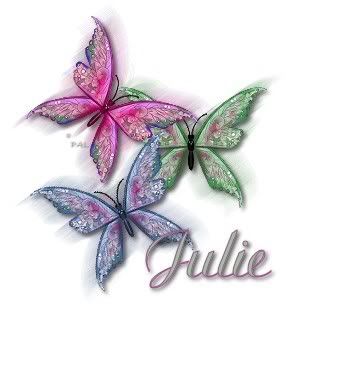 Supplies:

Stamps: Little Lady (A Muse Artstamps)
Cardstock: China Red Linen (CRS), Flat White (CRS), Jet Black Linen (CRS), Soft Sky (SU)
Ink: Onyx Black (VersaFine)

Patterned Paper: So Saffron (K&Company)

Tools: Cuttlebug, Ladybug die
, Slot Punch (SU), Scissors
Embellishments: 1/4" Black and White Polka Dot Grosgrain Ribbon (Michaels)
, Clear Bling (Staples)