I didn't get this posted yesterday...it was a very busy day running with the girls. Anyway, here's one of the projects that I completed at our crafty night that Val demo'd for us. Her inspiration came from a project idea on the Hero Arts website, this is such a beautiful and fast project. You can see Jennifer McGuire's project
here
on the Hero Arts site. I think I might make these with my little girls one of these days and I think these would make a really nice birthday card for little girls. I'll have to keep that in mind with us going to so many these days! :)
First, we used a sponge with the butterscotch colour ink pad. We applied it all over the butterfly. Then, we sponged on the plum colour just to the outer edges, the body and the large circle in the wing. This is a super-fast way to colour it! After you're done playing with the colour, carefully cut it out as close to the edge as you can.
Here's a top angle view, the card will even stand up on it's own. Cute, eh? :)
To make the antennae, we used pliers and cut a length of black metal wire. We then used a pair of needle-nosed pliers and held the very end in them and then wrapped the wire around in a circular motion to make the curled effect at the top. I used double-sided tape behind the front of the butterfly and covered the taped on part with a small piece of white cardstock.
We traced our coloured butterfly onto another piece of white cardstock and cut it out to make the back of the card. We scored this one a half inch in down the left side of the butterfly. Added more double sided tape and adhered the coloured butterfly to it to create a butterfly card that opens.
Here's a side angle view to show you how the card opens.
Thanks for stoppin' by! :)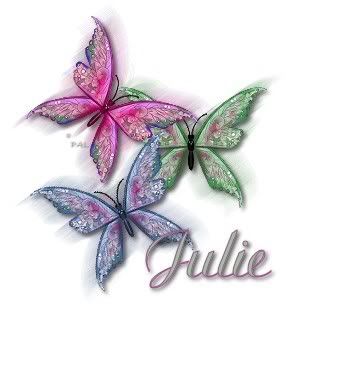 Supplies:
Digi Stamp: Flutterbies (Hero Arts)
Cardstock: Flat White (Staples)
Ink: Butterscotch and Plum
Tools: Scissors, Pliers, Needle-Nosed Pliers, Double-Sided Tape (Sookwang), Printer
Embellishments: Black Metal Wire for Antennae