I played for a bit this morning and thought I'd break in a set of butterfly stamps that I got quite some time ago and hadn't inked up yet...imagine, butterfly stamps in my house that haven't seen ink! It's almost a sin! lol :)
This is a close up of the extra vellum butterfly that I cut out and added to add a bit of dimension to the card.
Well, I was supposed to go to work tonight, but we've been getting freezing rain here all afternoon and it's pretty messy outside. So, I called into work earlier and they said they figured it would be a pretty slow night, so I was ok to take the night off. I'm glad about that as I don't mind driving on snowy roads, but freezing rain is a different story. Our street is like a skating rink so I'll be staying put. Waiting for the announcement of school cancellations in the morning...
Thanks for stoppin' by! :)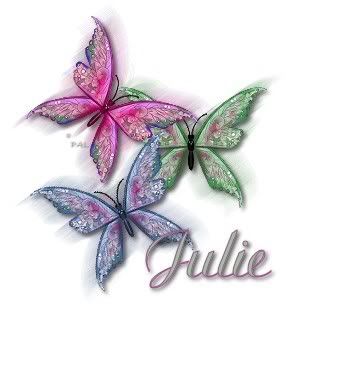 Supplies:

Stamps: Sentiments I (Impression Obsession),
Flourish - C95182 (Magenta), Patterned Bugs (Inkadinkado)

Cardstock: Pink Pirouette (SU), Chocolate Brown (CRS), Ivory (Staples) Vellum Cardstock (SU)

Ink: Vintage Sepia (VersaFine)

Tools: Scallop Border Punch (SU)
, Sponge (SU)
, Scissors
Embellishments: Pink Bling, Chocolate Brown Satin Ribbon (Michaels)